Tom McFadden
F U R N I T U R E

---
P.O. Box 162 - Philo, CA 95466 - (707) 895-3606
www.mcfaddenfurniture.com - tamcfad@icloud.com
---
1973-84
---
In June of 1973 Marina and I bought 20 acres on the Holmes Ranch, a subdivision in Anderson Valley, Mendocino County, an hour inland from the town of Mendocino. There were no improvements and we camped on the property while I built a small house, 20 x 24 feet. I had a commission to build a 12 foot long table for The Wine Museum of San Francisco and I did some work on it in our camp using a redwood stump for a workbench. Some of our stuff, including most of my tools, was stored in Les Stone's barn in Forest Knolls and I built a lot of the table there. I wanted to find a place to work in Anderson Valley, though, because Forest Knolls was three hours away. I had my hands full trying to get us established on our land; besides building a house there was a water system and a septic system to put in, fences to build, and winter firewood to cut. I tore down an abandoned mill worker cabin for the materials and I built a shed to store tools and things in and a woodshed too. We moved into the house, with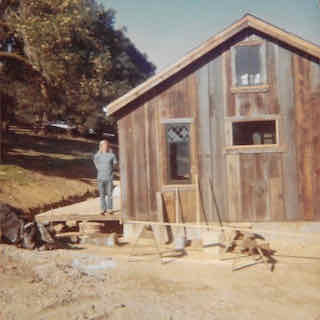 bare studs inside, in late September of 1973. The little house on Aztec Road had come with a wood burning cookstove, used for heating the house as well as cooking our meals, and we brought it along and hooked it up. It would serve there for 20 years.

Looking back I can see that this move cemented a lifestyle choice that I had already made. The move in 1968 from Fairfax to Forest Knolls in the San Geronimo Valley was a move from town to the country. With Marina I had reawakened an interest in gardening that I had abandoned in 1960 when I left my parent's home for college; we had planted a vegetable garden at Les Stone's place. No matter that his cow soon pushed the fence over to trample and eat it, I wanted to have a garden, I wanted to live in the country with some space around me and I wanted to be a craftsman working with my hands making objects of my own design. I also wanted to have a horse and a place to ride out. As it turned out it all fit together quite well. I had time for the homesteading operation because I was self employed and because we lived pretty simply I was able to make enough to sustain the whole thing. I worked lots of hours, but I got to choose what hours I worked. I had room and time for a horse too, and I soon got one.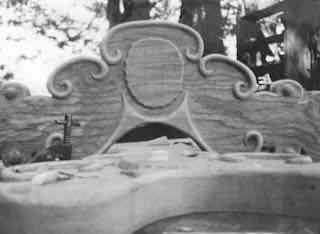 Except for the Wine Museum table there was no work to be done in a shop, and I had no shop anyway. The man who sold us the property, Nick Alexander, said that the folks who had bought the lot next door to us wanted a garage/living space built and suggested that maybe I could do that. I did, and that led to another similar project, and that to a barn - all for people who had bought their little piece of the country. I also did carpentry work around the valley the rest of 1973 and all through 1974. Nick suggested that I go talk to Jerry Wagner, a potter who lived and worked in a huge building in Navarro that had been the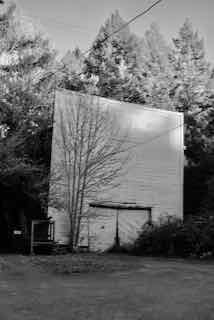 Navarro Machine shop. Jerry said that I could use the front of his building for my shop, and I set it up there - it was handy to have even though I was not really using it the way that I wanted. When winter set in I would find that it was less than ideal; there were a few times when water ran a half inch deep across the floor. I worked there for more than 10 years.

Marina decided to go back to Marin in the early summer of 1974. I think that she just got tired and burned out with what we were trying to do. Things had gotten to the point that I agreed that this might be best. A fellow named Brian who had helped me on the first garage project brought a woman he was dating over a couple of times and Peggy and I had noticed each other. I called her, things clicked for us, and she moved in very soon after. (What I recall is that it was two weeks.) We would marry and spend 20 years together homesteading and raising our two kids, Cristina and Cameron. Together we built a 45 foot water tower which we enclosed and made part of the house, a barn with fencing for the four horses we would have and a 1300 square foot two story shop for me. We had a huge garden and we raised chickens, goats, sheep, a steer, a lot of pigs, some dogs, cats, hamsters and a couple of baby horses in addition to Cristina and Cameron. Peggy was a Nurse, she became a Nurse Practitioner, and her loving support as well as her steady paycheck were a big part of my success as a furniture maker.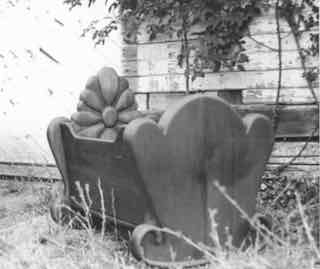 After I got the shop set up in Navarro I went over to Mendocino to look for contractors and architects and ask about cabinet jobs. Someone directed me to David Clayton, a well known and unlicensed builder who was doing new construction and remodels up and down the Mendocino Coast. He agreed to give me a try and soon I was doing all of his cabinet work and some front doors as well. I also applied and was accepted for the craft fairs put on by the Mendocino Art Center and this brought in some work. A heavy, carved redwood cradle entered in the County Fair in Boonville brought a call from a Sonoma County man farming his family's ancestral land near Geyserville. He had taken down some Walnut trees on the property and stored the wood in his barns and he wanted me make things from that wood. This served as an inspiration to me when I realized that I could do the same thing if I could find the trees. Jim Miller turned out to be one of my very best clients, ordering something almost every year for 40 years. When I met him I was a young man starting out, and he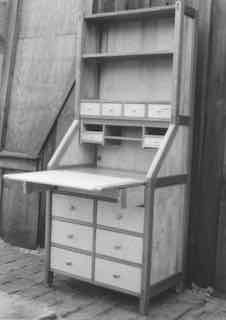 supported my efforts and showed a great deal of faith in me.

In 1976, as the last day of one of the Mendocino Art Center shows was winding down, two guys came up to my booth. Brian Lee and Crispin Hollinshead said that a number of woodworkers were talking about banding together to set up a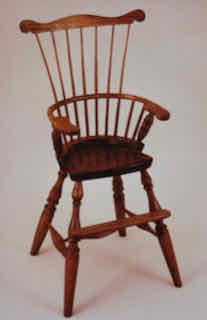 woodworker's group and would I like to be part of it? I said yes and they said there would be a meeting and they would let me know when. What we formed from that meeting became the Mendocino Woodworker's Association. We had monthly meetings and we began having annual shows at Preston Hall, the social hall of the local church. We held these shows, in various venues, every year through 1985, and we got Mendocino nationally recognized as a place to go for fine furniture and other woodwork. Woodworkers Associations and groups following our lead sprang up all over the country in the years that followed.

I had begun to try my hand at making Windsor Chairs, and I put two or three of them in our first show. After that I would make a new piece specifically for our show. The problem was that this stuff was piling up. Unless a buyer turned up during the weekend of the show there was no place to continue showing things and we just took them home with us Sunday night or Monday morning. There were several galleries in Mendocino and I went to all of them and none of them would think of even touching a piece of furniture. Then Brian brought Clyde Jones to one of our meetings. Clyde wanted to open a co-operative gallery to show our woodwork. We would all take a turn at manning the store and as a result the commission would be lower than if he paid someone to man the store.
We loved the idea and Clyde opened The Guild Store in Fort Bragg in 1978. The co-op idea did not work out well because as it turned out we woodworkers wanted to be in our shops, not in the store. It also turned out that Clyde was really really good at both running the store and selling furniture. Clyde moved the gallery from Fort Bragg to Mendocino after several years, then he moved it again, to the much larger building next door and named the new entity "Highlight". He was so good at selling that he sold everything I ever brought him in 27 years. He also brought me hundreds of commissions from people all over the US. Additional galleries showing woodworking began opening up, and by 1982 I had pieces in four of them that were located in the Bay Area. Pieces would sell and orders would come in as well.

"Fine Woodworking" magazine started publishing in 1976, providing valuable information on technique as well as raising people's consciousness regarding what was possible. Over the years I learned a great deal from the magazine which I put to practical use. I had started making oval boxes, inspired by the ones made by the Shakers - known as Shaker Boxes - and in 1982 I wrote an article on how I did that for "Fine Woodworking." That was the first of a number of articles that I authored, some for "Fine Woodworking" and some for a magazine that popped up later called, "Woodwork". I was also able to augment my income by teaching woodworking for Mendocino Community College, starting in 1978. My BA in English Literature combined with my 10 years experience woodworking allowed me to qualify for a California Teaching Credential with no problem. I taught a four hour evening class at Anderson Valley High School one or two nights a week for 20 years with a few breaks. I also taught the same class at Ukiah High School once a week for a limited time.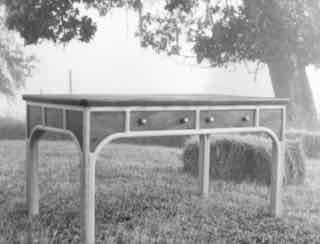 Up until the appearance of the Woodworkers Association in 1976 I was still using the construction methods I had learned early on. Everything was doweled together, either with or without a stub tenon. Sometimes I used only the stub tenon, a mistake that I now fear may have been fatal. The drawers in cabinets were assembled with sliding dovetails - which I had learned to make back at Hardwood Design - and I still do drawers on slides that way. I had abandoned the Sears jointer somewhere along the way because I still didn't realize what it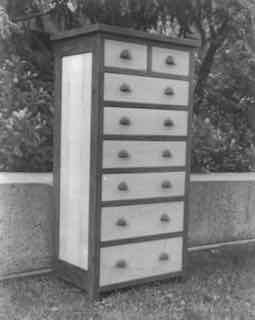 was for. I had a small, three wheel, bandsaw that I bought used and my collection of small electric and hand tools had grown. I had found a used drill press and I still had the lathe I had used in the Aztec Road shop. One Sunday morning I was working in Les Stone's barn when my hair got caught in the drill press. It wound up and my head banged on the machine and I thought it was going to pull my hair right out. Luckily a friend of Les's who was working on a boat there had put a switch on the drill press a few days before and I was able to reach it and turn the machine off. If he had not put that switch on it I would have been unable to reach down to unplug it. I think that was when I started wearing my hair tied up in a pony tail.

My knowledge of woodworking exploded through talking with other Association members, listening to members revolving monthly presentations at our meetings, looking at other people's work and reading "Fine Woodworking" carefully. I got a used 8 inch jointer and a new 14 inch Delta bandsaw. I continued using dowels and stub tenons as well, where appropriate, but I started making real mortises by drilling a row of holes with the drill press and then cleaning up the sides and corners of them with a chisel. I finished a set of cabinets and carved some beams for one of David Clayton's jobs and soon after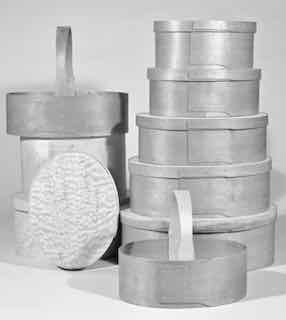 a the client asked me to make a chest of drawers for her husband. Peggy suggested that I make two and I did that as well as making them from matching wood which I re-sawed on the bandsaw. When I finished them and called Marcie to tell her and to let her know that there was a second one she said, "Oh Tom, I want it. Can I have a little time to pay for it?" Of course that was fine with me. I began making multiples of things occasionally after that, six wall hung roll top desks first and then six trestle tables as well as many doubles. These "production" runs happened when there was a break between orders. It was while I was making those two chests that I designed my own system of case construction, which I have used ever since. I also designed and made seashell pulls for those chests and I have made them ever since.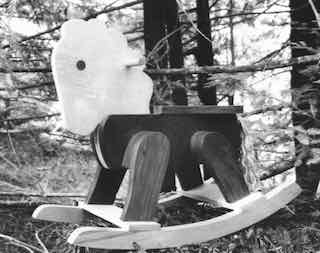 When doing craft shows I had always tried to have small, salable things as well as furniture because the money from those things would pay for at least part of the expense of doing the show. I was happy if it paid the booth fee, but there was also gas, meals, and a place to stay if the show was some distance from home. I usually brought cutting boards, rolling pins, hand mirrors and maybe some small turned things like bowls, candlesticks and weed pots. I wanted something more and decided to try Shaker boxes, which I called Oval Boxes - "because I am not a Shaker". I had bent parts for the Windsor chairs by boiling them in a tank made by welding two junk water heaters end to end, but the boxes called for a real steam box. I made one, and a set of molds for 7 different oval shapes and 7 additional molds for tops to fit. The water heater tank had been heated over an open fire and that worked just fine so I got a defunct crab pot, set it up over a fire pit, and ran a pipe over to the steam box. This worked well and I made them for many years. My students in the class made them too. I sold all that I could make, both at shows and in galleries.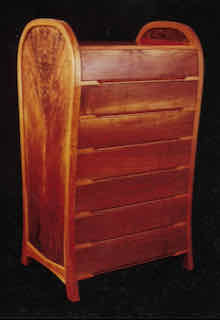 I greatly admire the flowing sensuous curves used in Art Nouveau work, and I wanted to add curved elements to my pieces, so I started doing bent laminations. I cut thin strips and glued them together in a mold to create elements that I could then machine and combine into furniture. If the curve was too sharp I would have to steam the strips and clamp them in the mold until they dried, then add glue and re-clamp them. I designed the molds so that they would work with the bar clamps and the 'C' clamps that I have on hand.


We started work building the aforementioned water tower on our place in 1977, and it took 6 years to finish it to the point that we could move in. It is three stories tall, the first two are each 15 feet and the third has 8 foot walls. Foundation, floor framing and roof peak make it top out at 45 feet. I made a 3000 gallon water tank from old growth Redwood and assembled it on the third floor; it is 8 feet in diameter and 8 feet tall. The floor was hot mopped with tar and has drains in the corners. The second floor is a bedroom with a loft over about a third of it. The first floor would become a living room, but before that I moved the shop out of Navarro and into the water tower. There was a deck out back that was just about tailgate height on my pickup with an overhang where I put a dust collection blower that I got at a junkyard in Petaluma. I added another room onto the back side and expanded the shop area a bit until the "real" shop building was finished in 1987. I had wanted to work at home again ever since I left the Aztec Road place and this brought me almost full circle. The most important and thing that happened during this period, of course, was that our two children had been born and were thriving.  


---