Tom McFadden
F U R N I T U R E

---
P.O. Box 162 - Philo, CA 95466 - (707) 895-3606
www.mcfaddenfurniture.com - tamcfad@pacific.net
---
Surgeon's Desk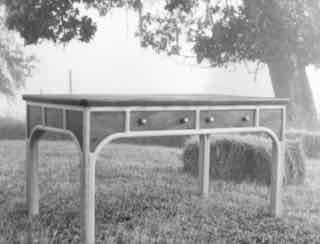 One day when I was working in my Navarro shop I got a phone call from a man who introduced himself as a surgeon in Ukiah. He said and that he wanted me to build a desk for him and that he would be over in an hour. I had thought this up and made a crude sketch by the time he got over to the valley. It was my first experiment with doing bent laminations; the curved Ash parts are glued up from 1/8 inch thick strips pressed together in a mold. The top, panels and drawer fronts are curly Koa, all solid wood. 1974

I made the molds, and future molds, from plywood scraps left from making cabinets. They were 1-1/2 inches thick, one half glued and screwed to backing piece of plywood and the other half free. Imagine a piece of plywood with the area of the planned laminated member cut out of it and the outside edges cut in straight and parallel lines, one part fixed and the other loose. The laminations were glued and laid into the mold and the two sides of the mold were clamped with bar clamps and "C" clamps.

This client loved his desk and years later I traded him a small chest of drawers for a bit of surgery that I needed. Later when he and his wife divorced he told me that my pieces were the only thing they had argued over. (Other clients have said the same thing.). Still later I ran into him in restaurant with a new lady and he said he wanted one more piece". This time I made him a chest that could serve as a coffee table out of curly Walnut. The inside was lined with aromatic cherry.